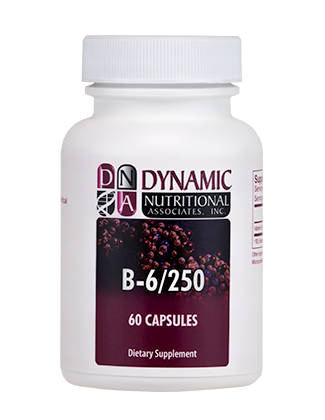 1 Sustained Release Capsule Supplies:
| Ingredient | Amount | Daily Value |
| --- | --- | --- |
| Vitamin B6 (as pyridoxine HCl) | 250 mg | 14,706% |
| * Percent Daily Values are based on a 2,000 calorie diet. | | |
B-6/250 Sustained Release
Sustained-Release Pyridoxine (Vitamin B6)
Vitamin B6, or pyridoxine is a water-soluble micronutrient. B6 is an extremely important B vitamin which takes part in over 60 enzyme reactions in the body. It is important for the multiplication of cells and is therefore vital in pregnancy, immune system functioning, mucous membranes, skin, and red blood cells. Because these tissues multiply rapidly, they are in great need of vitamin B6. This vitamin is also important for brain chemistry as it is involved in the synthesis of all amino acid neurotransmitters such as serotonin, dopamine, melatonin, epinephrine, norepinephrine and others and is therefore critical for proper hormone support.◆
Other Ingredients :
Hypromellose, microcrystalline cellulose, magnesium stearate, silicon dioxide.
Recommendations :
Take one capsule daily or as directed by your healthcare practitioner.
If you are pregnant, nursing, or taking medication, consult your healthcare practitioner before use. Keep out of reach of children.